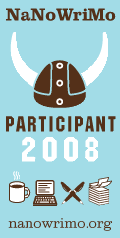 Last year, my writing project for Nanowrimo turned into Bride of Tranquility, which Yard Dog Press will release sometime soon (or sometime later, if a certain someone who married me will only just finish ediing the final draft).
This year, I think I'm going to try to finish a YA murder mystery that I started last year.
My problem is that I have too many long-form fiction projects running around in my head, and I want to write them all at once. Maybe after November, I'll have one less wandering around up there.
I wonder if Stephen King ever has this problem.