I've been promising a trip report on the great desert hike of 09. This is taken mostly from my trip diary, with photos, so if it's a bit rambly in spots, I do apologize. But I do give you photos, so at least there are pretty pictures to look at.
Some Background for context: My mother is in love with the Southwest. My third year of college, my sister (Then a state officer with FFA) had the chance to travel with a fellow state officer out to Colorado. She had so much fun, that the three of us decided to take a driving tour on a shoestring budget over the summer.
Since then we've gone out west almost every year. After seeing all the roadside attractions we could, we started tracking down things that took a little bit of hiking to get to. By now (2009), we're pretty seasoned hikers.
Over the years, we've taken family and friends with us, but we try to keep the very strenuous trips to just the three of us, because miserable guests make for miserable trips. After a jeeping trip through colorado a few years back, my best friend decided not to go on anymore trips. After a mule ride into the Grand Canyon, my aunt decided not to go anymore either. Our husbands think we're a little crazy.
When my sister's kids (and eventually mine when I have some) get old enough, we'll probably let them come along if they're hardy enough to bear up under the strain of the trip.
A few years back, when my mother was researching Antelope canyon,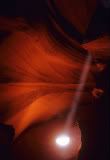 (that would be here)
She ran across the reference to a place calledThe Wave, at Coyote Buttes near Paria Canyon in southern Utah near the Arizona border. It's a petrified sand dune from the jurassic period. It looks like something that has been photoshopped. Bright bands of colored sandstone undulate and dip like a wave.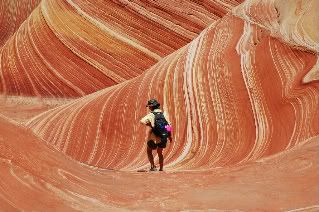 Because the formation is sandstone, the national parks service only allows 20 visitors a day, max. 10 are chosen about 9 months in advance by lottery, and 10 are chosen the day before. We put in for passes in October, along with about 50 other parties from around the world, and managed to get them. At that point, everything was set. No backing out.
You can see a You Tube video of the drawing for back country passes here.
In truth, I was kind of worried about this trip. My sister has gained weight after 2 kids, and injured her ankle. I've always had a problem with overheating easily after being hospitalized with viral meningitis when I was six, and my mother told me that she hasn't conditioned for the hike the way she should.
A couple years back, on a trip down into the Havasu reservation in the upper Grand Canyon, my sister overheated and went down (I wasn't on this trip). My mother cooled her off by helping her crawl into a creek, and they made it through the trip okay. Prior to that, I almost overheated while riding a mule down into the Grand Canyon, and managed to cool myself off by finding a creek and drenching down. Last year I almost overheated after an unplanned hike in Palo Duro Canyon. I blame that on improper clothing and not enough water.
So going into the trip, I was nervous. I thought we would be physically alright if we stayed hydrated enough, but I anticipated that the heat would prevent us from enjoying the trip. As it turns out we had nothing to worry about. My sister had lost some of her baby-weight while conditioning, her ankle behaved, the weather was unseasonably cool (if you can call 80 degree temperatures unseasonably cool) and even my mother was in trim shape.
6/13/09 (Saturday)
We're driving directly from Fort Smith Arkansas, with the back country passes for Monday. The plan is to drive 12 hours today (Saturday) and then 6 hours Sunday. That way we will have a little rest sunday, and be up at first light to hike in the cool part of the day on Monday.
The only noteworthy thing to report about the trip is that it was incredibly windy. The wind was pushing our Yukon, as well as a number of semi trucks all over the road. When I checked the national weather report that night, it was because we were driving through the Jet Stream. Because the Jet Stream shifted strangely, Arizona and Utah were having unseasonably cool (80 degree) temperatures, while back home in Arkansas, they were having unseasonably warm (90 degree) temperatures. Bad for the folks back home, but perfect for hiking through the desert.
6/14/09 (Sunday)
After a short (6 hour) drive from Gallup New Mexico to just about 30 minutes north of Page Arizona, we arrived at our destination: The Paria Canyon Adventure Ranch. The ranch caters mostly to European tour groups traveling on vacation, but they have one cabin, and they're the only place to stay between Page and Kanab.
They're also extremely laid back, nice and friendly. They offered to let us in on a couple of horseback tours that they were guiding the day we arrived, but since we have horses back home, we gave it a pass.
Since there is more of a Hostel environment, there are no quiet hours, and they allow guests to smoke (not so great for me, but perfect for my mom). I make it sound raucous, but it was actually very restful. We met some very gracious visitors from Germany, France, England and Argentina who were excited to be seeing the American west. (I was a little bemused by the folks who got excited about buying a straw cowboy hat for a souvenir. But then again, every summer my dad has one of his straw hats get blown into a hay bailer. I guess it just doesn't have the same cachet for me).
Quite a few folks were charmed by our Arkie accents (my sister was happy to correct folks that we are Arkansawyers, not Arkansans). The Ranch's owners made sure that if the guests wanted to be noisy, they confined it to a party barn that they had on the property. But the craziest thing we saw was a group of French college kids playing volleyball until 2 a.m. Not exactly Daytona Beach-scale party.
At any rate, if you do need a place to stay in that area, I recommend it. We enjoyed our stay so much that the next time we're sightseeing in that area, we're going to plan the trip around staying there.
6/15/09 (Monday)
The big day. We were up at dawn and packed three camel back backpacks with three water bladders, two reserve bladders, and three plastic gallon milk jugs full of frozen water for the trip. Additionally, we had granola bars, tortillas, string cheese and turkey for food. Sunscreen and skin-so-soft for bugs, columbia gear in layers, and bandannas and 'frog togs' Chilly Pads to wet down to stay cool.
To give you an idea what the hike was like, here is a photo of some of the terrain.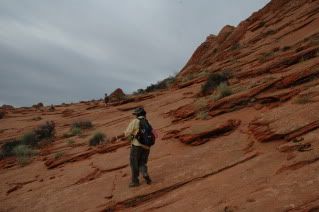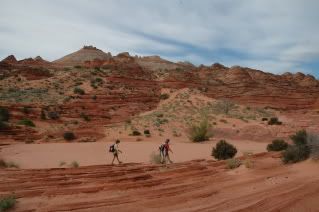 The hike is about 3 miles down and 3 back. A lot of people get there, look around and leave. But we climbed over the wave and went exploring. All told, we hiked about 7 miles that day.
There is a lot to see. Unusual rock formations, petrified raindrops, mountain pools that are filled with tadpoles and these things that look like a cross between trilobites and horseshoe crabs, arch formations, And a second wave formation, known as wave 2.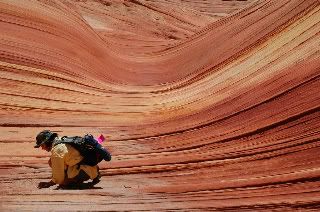 Here my mother is looking at petrified raindrops in the bottom of The wave. I loved how her yellow hiking shirt just seemed to blend with the yellow bands of color behind her. The pink tag on her backpack is our back country pass. The rangers do patrol the area from time to time, looking for hikers trying to sneak in, and making sure that everyone makes it safely back off the trail.
I can easily see why they need to limit the number of people who go out there. It's pretty spectacular, but it is made of sandstone. The edges of rock that we were scrambling over seemed like it was on the verge of crumbling off on our fingertips. If they don't control the number of people who go in, then we would probably all love it to death.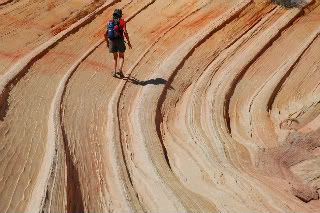 My mom hikes along Wave 2.
The hardest part for me was getting out. We sailed through two of the last three miles with ease. But half of the last mile is up a sandy hill. There is no traction, and in the afternoon the sand blasts heat up at you from below. Once you're through that, you sign out (So that the rangers know you made it out safe and they don't have to call out the search and rescue). Once you've signed out, you may think you are near the end, but there is still a half mile of creek bed to walk through.
I made it through okay, but getting through the sand took a lot of energy reserves. When I got back to the cabin, I crawled straight into bed (my sleeping bag thrown over a futon in the cabin) and slept. from 5 p.m. through to 8 a.m. My mom woke me up for an hour when dinner was ready, but after that I went right back to sleep.
The thing I couldn't believe was that as we were leaving, a family of 6 was coming in. This was 3 p.m., the hottest part of the day. Their back country pass was green colored, which meant that they won the lottery yesterday. The leader seemed dressed for a desert hike, but the other adults were wearing jeans and no hats. And bringing up the rear were two seventeen year old girls who looked like they were dressed for a trip to the mall. Jeans, tight tops that had to be a polyester/spandex blend, no hats. One of them had a small bottle of water. They already looked miserable and if my camel back wasn't completely empty by that point, I would have given it to them. Sometimes I'm really astonished by how little thought goes into the elements when someone is hiking. I assume that they managed to drag themselves out there and back, because I didn't hear from the rangers that there was a search and rescue or ambulance.
This is already a long post, and I've just covered the first big hike. So I'm going to stop here. Tomorrow, I'll post about our second hike: out to Wire Pass and Buckskin Gulch.