Today's Author Spotlight is on Author Margaret H. Bonham.

Maggie is the author of the The Champions of the Chi'lan Series, which includes Serpent Singer and other Stories as well as Prophecy of Swords, Lachlei and Runestone of Teiwas. Maggie's latest book, The Howling Dead is available from Dragon Moon Press.
Which earrings look best with fur? Kira Walker is a geek and UNIX systems administrator who has a bad hair day at least once a month. But when a wolf attacks Kira and her BFF in downtown Denver around the full moon, she's devastated. Now, like it or not, Kira is unemployed, and the head of Denver's werewolf pack is getting a little too friendly for her tastes. And, oddly, she keeps finding herself naked in front of road workers. Caught in this new world, Kira discovers there are sinister forces at work. Rogue werewolves have declared war against humans, and when Kira's other BFF is kidnapped, it gets Kira snarling mad. Can she solve the riddle of the Enchanted Forest before the rogue werewolves kill again? Fashion-challenged Kira will learn that werewolves have a strong bite.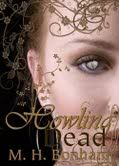 Maggie calls The Howling Dead. The Book From hell. She described the book as a cyberpunk werewolf technothriller.
"It's a murder mystery. And a romance. And . . . and . . ."
Maggie said that all the diverse elements made the story both entertaining and difficult to write at times. Especially when some of her characters seemed to develop minds of their own.
"I tried to write it following a formula, and then Spaz showed up." Spaz is one of the characters in Howling Dead. "Spaz grabbed the plot and took over."
It's not surprising that Maggie writes about werewolves. Her day job involves writing about other four-legged and furry animals. That is to say that she's a freelance writer who specializes in dogs. Maggie has written a number of books dealing with specialized breeds and dog training including dog agility, and the Complete Idiot's Guide to Labrador Retrievers. Maggie has owned up to 25 dogs, and has been a sled dog racer.
Maggie's dogs have worked their way into her stories. The dragon Hagel in The Champions of the Chi'lan Series is named after one of her dogs. Maggie said that she named her protagonist in Howling Dead, Kira Walker after her malamute Kira.
All this,and she's a ninja rocket scientist too.
"I really was a rocket scientist, I'm not kidding." Maggie said. "Now, I take lessons in ninja, and
shotokan karate."
Maggie blogs about her experience with ninja lessons, sled dog racing, and writing at her livejournal blog as well as her facebook page. You can also find her on twitter as well as the websites

www.shadowhelm.net
www.howlingdead.com,
www.prophecyofswords.com
www.lachlei.com