–>

Today's author spotlight is on Rosemary Jones. You can read part 2 of the article here.
Rosemary is the author of the Wizards of the Coast Novels Crypt of the Moaning Diamond and City of the Dead. Both novels are set WotC's the Forgotten Realms universe.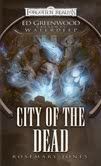 Rosemary categorizes her books as "Dramedy, Dungeons & Dragons."
"I like writing about people and how they would naturally function in some pretty strange settings," Rosemary said. "Someone said that my fiction features ordinary folks who do the behind-the-scenes work in the fantasy, and that seems about right."
Rosemary said that Crypt of the Moaning Diamond follows a group of sappers (a real life military job dating back to Biblical times) as they try to survive in a one very bad day in the monster-filled underground lair, not lose their little white dog in the chaos, and find lunch because the camel ate their breakfast.
City of the Dead is set in the Forgotten Realms city of Waterdeep and follows the story of Sophraea Carver a girl who was raised next to Waterdeep's massive graveyard, the City of the Dead, where her family works.
"In the book, Sophraea relied on her wits rather than any magical powers to solve her problems with ghosts, ghouls, werewolves, and the cute wizard who kept following her," Rosemary said.  "I like to write about the people who might not be the natural heroes of a fantastic sword-and-sorcery novel, like one-eyed dwarf with a habit of taking his pet dog everywhere with him or a funerary family's complicated relationships.
"I tend to draw from historical fact to bolster the fantastical. Medieval war camps were not tidy places: folks brought their horses, dogs, hawks, and camels to war. My first novel begins with the camels breaking free and trampling the supplies of my Siegebreakers. Of course, this leads me to sending e-mails to my editor like "can I have camels camped outside Tsurlagol?" or "can I put a living topiary dragon in Waterdeep's graveyard?" Luckily, she's very open to me being "quirky" and the readers have been equally supportive – and I appreciate that!"
Rosemary also has short stories appearing in three anthologies this year. Her story "Dusty Bones" Appears in the anthology Realms of the Dead. "Two Out, Wendigo" appears in Close Encounters of the Urban Kind. Her next short story out is entitled "Junker's Fancy," Which will appear in the forthcoming anthology Zero Gravity.
"I've just finished stories requested for three more anthologies, and have invitations for two more this year, but I don't have publication dates yet." Rosemary said.