–>
This is the second part of an interview with author RosemaryJones. You can read the first part here.
Rosemary said that she began writing for WotC because she lost a contest.
"Wizards of the Coast created a competition to find someone to write a novel based on the Goddess of Pain as part of a series about all the gods in the Forgotten Realms pantheon.. The winning outline won a contract. I suggested a romantic comedy with Pygmalion overtones – apparently a funny novel about the patroness of torture and destruction was not what they were looking for. However, I and several other writers ended up on a short list of authors approached about other projects."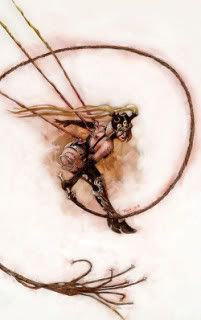 — The Goddess of Pain in the Forgotten Realms Universe. And in Rosemary's hands, the potential subject of a romantic comedy.
When not writing Sword and Sorcery, Rosemary is a reviewer for the Seattle Examiner. She has also co-authored a series of books along with her mother, author Diane McClure Jones on the subject of collecting children's books.
:My mother started writing and selling novels when I was in grade school. I do know that some of my stories about friends in high school eventually ended up in her young adult novels. These days she still "borrows" bits from me for her tales. We just had a phone conversation today about what type of GPS a young vampire would have installed in her car.  The advantage of having a writer as a close relative is that you can call up late at night and say things like "I'm not sure about this, what do you think?" And, of course, when we were co-authoring our series about book collecting, we did a lot of back and forth about how we wanted to organize our work, who was responsible for writing what, and cross-proofing."
According to Rosemary, ink runs in her blood. Her maternal grandfather was a newspaper editor and her mother, Diane McClure Jones is the author of a number of YA novels for Scholastic, Avon and other New York publishers.
Rosemary said that growing up in a family of writers taught her to treat her writing as a job.
I grew up with the realization that writing is a job, just like electrical engineering (which is what my father did), and it's not necessarily glamorous, or high-paying, or even sensible at times. My first nonfiction contract with a now long-gone publisher was very rocky experience:  my editor quit to raise lamas and the book was basically orphaned.  Although highly frustrating at the time, it helped to know that similar events happened to other writers (my mother went through a patch of losing agents and editors to pregnancy: she used to joke she was turning into the fertility goddess of New York publishing). If anything, it's made me fairly realistic about the business side of writing.
"All roads lead to my keyboard," Rosemary said.


–>
You can find information on Rosemary's forthcoming stories as well as her upcoming appearances at http://www.rosemaryjones.com/