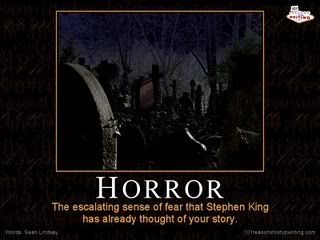 Another motivator courtesy of 101 Reasons to Stop Writing.com.
Today's blog is inspired by a similar topic that Rhonda Eudaly recently covered. I'll call this topic Don't be that guy.
There are very few hard and fast rules in the business of writing. One of the ones that nearly everyone will tell you is that you should never be unprofessional to an editor. You should especially, avoid responding to a rejection letter.
It may be tempting to fire off an angry letter, especially since you're convinced that your work is deathless prose. But all a rejection really means is that your work wasn't a good fit. There are plenty of reasons why stories get rejected.
·

The story didn't meet the word count. When an editor says 'no more than 7,000 words, they meant it.
·

The editor just bought three stories with a similar theme. Yours is just the fourth singing cat story to land on their desk this month.
·

The market isn't a horror science fiction market. So the editor just can't buy 'Ragnar and the Zombie Leeches from Mars' even though it really is good.
·

The story just wasn't to the editor's tastes.
·

The story was to the editor's tastes, but the ending was unsatisfying.
Whatever the case, if the editor can't use a story, an angry letter won't change their mind. What it will show that editor is that you aren't professional. This means that they aren't going to look at any of your future work either. (If this is the only story that you've ever got in you, and you're never going to try and sell something else, maybe you should take up a new hobby instead).
Beyond that, they are probably also going to tell all their other editor friends that you are someone that they don't want to work with. (Editors do talk to one another. They like to get together at conferences and talk shop. If they've had a bad experience with you, they will remember your name. You will become one of their cautionary tales.)
So don't fire off an angry letter. If you feel the need to write one, do so. Then burn it. Or stick it in a file and revisit it in five or ten years when you are older and wiser and more mature. Then you can laugh at your youth and inexperience. Or be embarrassed that you thought that 'Ragnar and the Zombie Leeches from Mars' was deathless prose.
Or, if you feel the need, send it once you've won the Hugo, the Nebula and the Pulitzer Prize for Literature, and have been knighted by the Queen of England for service to the Crown. Then you can feel secure that those editors who once though so little of your work are now crying themselves to sleep a night knowing that they will never have the chance to work with you.
But somehow, if you hit that level in your writing career, I think you may no longer care about those rejection letters.
ETA: Also? There is an amazing writer's resource for men's dress clothing here: http://hackthis.livejournal.com/561614.html

I knew some of this stuff from buying my husband's suits, but the detail is just incredible.