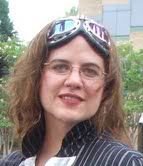 Today's author spotlight is on Emilie P. Bush, author of the Steampunk adventure novel Chenda and the Airship Brofman.
Chenda Frost is the young widow of the reclusive Commander Edison Frost of the Republic Airship Service. His death was ruled a suicide but foul play is suspected. Candice Mortimer is a geology professor who was Edison's good friend twenty years ago. Chenda finds a letter and some jewels hidden in a secret compartment of her dead husband's desk. In the letter, Edison requests her to join Candice in a secret mission to help the Republic defeat the Tugrullian Empire. "Chenda and the Airship Brofman" is highly recommended for fans of young adult science fiction/fantasy. Chenda is an adorable young girl who quickly matures into a responsible woman who is determined to fight the Tugrullian Empire. This expertly crafted, fast paced novel is filled with mystery, suspense and romance. I have a feeling that Chenda will fall in love with the handsome, young chauffeur, Daniel, whose father served aboard the Valiant Eagle along with Commander Edison Frost. Candice Mortimer is also a strong, brave woman with a sense of humor. She will become good friends with Chenda and help her find a mystic, Pranav Erato.
Chenda is Emilie's first novel, and she said that she is very pleased with it.
"Every month it picks up speed sales wise. There is a buzz around it. People are passing their copies along to friends and that pleases me!" she said.
The book is set in a world unlike our own, where several types of alternate power –not just steam –developed as the dominant technology. For example, the airships in Chenda's world are powered by photosynthesis created with algae.  Emilie said that she had a lot of fun building Chenda's world.
"The key and challenge to world building is to make the rules to your worlds and stick with them. I wanted Chenda to live in a world that looked similar to a past version of our own, but had a few major differences. The Republic has lots of available electricity, but no radios, telegraphs or telephones. That was a rule I made and had to live with, even when it was not convenient, but the challenges made for an even better story in the end, I think."
Emilie said that she wrote the first draft of Chenda in only three months.
I had a compulsion to write that first novel, a "you're going to die a horrible death if you don't write". That and a lot of insomnia, so the rough draft of Chenda was written in about three months."
Despite the short time it took to write the novel, Emilie said that she didn't have to make major changes to the rewrite.
When I started Chenda, I knew that she needed to get to the "other" world and then come home. I knew how she would get there and roughly the beats she would have to hit on the way there and back. During the rewrites, I did have to go through and flesh a few things out a bit more, but didn't have to make major changes, I had to pepper the story with a few things that seem meaningless, but are necessary to the Chenda follow up, "The Gospel According to Verdu." That one is taking MUCH longer to get on paper than Chenda did. Life is a lot fuller now, and momentum is hard to come by!"
In addition to The Gospel According to Verdu, Emilie said that she is working simultaneously on another novel, which she called a modern mythological fantasy.
"I'm sleeping better these days, but am not writing as quickly," Emilie said.

When she's not writing, Emilie said that one of her hobbies is to carve bone.
"I started carving bone because I saw a pendent that I wanted to buy as a gift for a friend for a very special milestone in her life. It was lovely but expensive, so another friend handed me the raw materials and just said, "Try." I used to process my own bone from the butcher's shop – by far the cheapest way to acquire raw materials but is gross and stinky. Now I get bone from a knifemaker's supply company."
You can find more information about Chenda and the Airship Brofman and the forthcoming follow up novel, The Gospel According to Verdu at coalcitysteam.com. Both the book and Emilie have a facebook page. The facebook page for Chenda and the Airship Brofman is here. Emilie's Facebook page may also be found here.
You can purchase Chenda in Kindle form as well as paper format from Amazon.