Today's author spotlight is on Louise Marley. Louise has written novels in the science fiction genre (The Terrorists of Irustan, The Child Goddess), fantasy (The Singers of Nevya), and historical (The Glass Harmonica).


Her most recent novel, Mozart's Blood, was released from Kensington books on July 1st.
Mozart's blood revolves around Opera Singer Teresa Saporiti. Saporiti was the first to assume the role of Donna Anna in the 1787 world premiere of Don Giovanni. In the book, Saporiti and Mozart are both turned into vampires by a Czech aristocrat. Although vampirism bestows immortality, the vampires must cope with the memories of their victims and an unquenchable thirst. Mozart is unable to cope and dies painfully and Saporiti carries his memories. In 21st century Milan, Saporiti's werewolf partner is kidnapped by someone who wants Teresa to surrender Mozart's memories to them.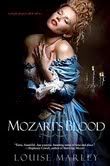 To write Mozart's Blood, Louise called on her own experiences as a former concert and opera singer.
"I had such fun with this book, because it allowed me to indulge my musical and operatic bent while writing a historical/fantastic novel. I did research in New York and Milan, causing my husband to complain that I never set my books in places like North Dakota," Louise said.
She said that she applies the work ethic that she learned as a musician to the writing field.
"My favorite word and the one consistent thing about the way I work, is DISCIPLINE. I learned it well as a musician, and it still applies to my writing work."
Louise said that writers and other creative types can learn a lot about discipline from musicians. She has blogged on the topic on a number of occasions and has even written an essay about the subject entitled "Five Music Lessons for Writers" that is still being passed around today.
" In essence, the essay is about the necessity for discipline in any artistic career. Getting the urge to write is great, but it's like trying to use lightning as an energy source; it's exciting, and fun, but not very reliable. Discipline is what gets the pages written."
Discipline has been the key for Louise in writing the number of books that she has written across multiple genres.
"The wise author chooses a genre and sticks with it. It's called branding. Sadly, I'm not all that wise. I've written fantasy and science fiction as well as historical. I like them all, and I read them all, so it's hard to resist writing in all of these genres."
Louise has a light schedule of appearances, due to a deadline for her next book. She will be at Orycon in Portland Oregon. She said that next year she will be at Wiscon, World Fantasy and Worldcon.
You can find Louise online at www.louisemarley.com, as well as the facebook page Louise Marley's fan page. Although Louise said that she tweets rarely, you can find her on twitter as SingerLouise. Louise also blogs at RedRoom.com.