–>
You may have heard of Author Elissa Malcohn's work because she was a finalist for the Campbell award in 1985, or you may have heard of her from her work on the preliminary ballot of the Nebula in 1989 or because she was a recommended author for the 26th Annual Edition of the Year's Best Science Fiction. Or you may have heard of her for her more recent work.  Malcohn's novelette "Flotsom" Appeared in the My Oct./Nov. 2009 ediditon of Asimov's, and her short story "Judgment at Naioth" appears in the Dybbuk Press anthology She Nailed A Stake Through His Head: Tales of Biblical Terror. As well as her series Deviations and Other Journies.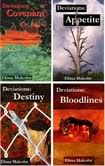 According to the editor of 'Judgment at Naioth' the story has singing foreskins.
"That's how editor Tim Lieder plugged the story on his blog.  I got a kick out of that, not least because it's true," Elissa said.
Elissa described her earlier work as drawing on the "New Wave" movement of the 60s and 70's.
"New Wave focuses on social issues, taboos, and "inner" versus "outer" space, and I consider my writing to be in that tradition.  I've heard it also fits into a subgenre called New Weird.  I don't use much in the way of hard science, though I often incorporate science into stories."
Elissa's short story "Flotsom contains a sonnet entitled "Derivative Work," which is in itself a derivative work of an earlier poem that she wrote entitled "Labor Intensive."
"Flotsam" draws from my years of working in the environmental research arm of a government contractor, but it was inspired by a CNN "Planet in Peril" segment." Elissa said.  "Derivative Work" came about in a derivative way, beginning with a sonnet I'd published in the Harvard Business Review.  That sonnet was reprinted in Prof. John K. Shank's case "Jones Ironworks, Inc.," which led to my being asked to write an article on copyright for Poets' Forum Magazine. While writing the article, I read up on derivative works — and it hit me that Frankenstein's monster was one, himself.  I did a little more research to get the language I wanted and updated the myth to include the controversy surrounding modern-day DNA patents.  It goes to show how everything can inspire everything else."
Elissa is also in the midst of publishing her six book series "Deviations and Other Journeys." The series has been well received by reviewers.  Because the subject matter is cannibalism, some reviewers caution that the series may not be for younger readers.
"The Deviations series began as a short story back in the 80s, but it didn't quite fit the short story format.  Life intervened, but I kept my old draft and old critique notes and rejections, and returned to the story almost 20 years later.  I told myself I would expand it into a novel. Then I told myself it would be a trilogy. Then the characters refused to leave me alone and it became a six-book series — which is why I've been concentrating more on short works lately!"
The stories were originally released through a traditional publisher, but she continued to release them in the E-format after her publisher went under.
"I plan to release the fifth volume in December. I'm thrilled at the readership I've been getting."
To read part 2 of this interview, go here.