This is an author spotlight on Adrian Simmons, one of the editors of Heroic Fantasy Quarterly. To read part two of this article, Go Here.
Today's Author Spotlight is on Adrian Simmons, one of the editors of Heroic Fantasy Quarterly and author of numerous short stories. Adrian has two short stories forthcoming in anthologies in the next few weeks. The first "Hard Crossing at Luhinmov Ford" will be in the The Roar of the Crowd anthology from Rogue Blades Entertainment. The other is a work called "Tribes," which will be available in an anthology called Doomology , which will be available from the Library of Science Fiction and Fantasy Press.
The Roar of the Crowd is an anthology of stores based on gladiators and gladiatorial games.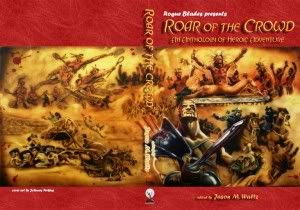 The crowd determines all. Herein lie the tales of ancient cultures locked in mock battles; of forgotten generations playing violent games; of individuals vying to the death for the favors of rulers and lovers. Herein are the tales of grand events, from harvest festivals to grim executions, in all their glorious gory entertainment!
This anthology is NOT simply historical adventure fiction or another collection of gladiator tales.
Herein lie tales of historically real events and games with fantastical elements and surprising crowd control. Herein lie tales that cannot be told the same minus the crowd! In each tale, the crowd will be involved, influencing the outcome through means of magic and of might,  means nefarious and righteous, means intentional and bidden.
The crowd is the key to the story.
Adrian said that "Luhinmov Ford" is a prequel to a bronze-age fantasy novel that he has written entitled "Pilgrimage of the Raven Feeders".
The anthology Doomology contains a collection of fiction that explores cataclysmic events from their chaotic beginnings to their life-altering aftermaths.
"Tribes" has a kind of interesting story behind it. A lot of people write stories based on dreams they've had. That rarely works for me," Adrian said. "My dreams get too weird too quick, but in this case, I liked the fundamental idea of the dream so much that I was editing it as it happened, to keep it from getting too weird or nonsensical. So that, and a little work once I was conscious and the story was done!"
Adrian has also written a young-adult science fiction novel entitled "Course Correction. " He is currently searching for a publisher for that novel.
Adrian said that he and his co-editor, David Farney chose to publish a magazine about Heroic Fantasy because they both enjoy the genre.
"Once David Farney and I decided that we wanted to publish something it was just process of elimination after that– sword and sorcery was what we could both agree on!"