This is the first of a two part article on Author Laura J. Underwood, the author of the newly released novel Wandering Lark. To read the second part of the article, click here.
Today's Author spotlight is on Laura J. Underwood. Laura is the author of several short stories set in the fantasy world of Ard-Taebh. Her work has been featured in Marion Zimmer Bradley's Fantasy Magazine. Laura's latest work, Wandering Lark is a novel that was just released from Yard Dog Press. Wandering Lark is the follow up to her 2006 novel Dragon's Tongue, which was released by Meisha Merlin.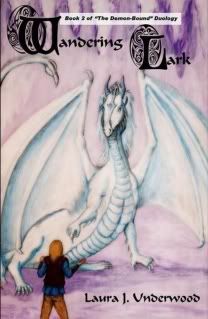 Laura said that having Wandering Lark became a quest to her in much the same way that her character was on a quest.
"Wandering Lark was a scheduled release to follow Dragon's Tongue in 2007. But before it was released, Meisha Merlin closed their doors."
Laura said that she left Alaric, her primary character from Dragon's Tongue in the midst of a cliffhanger at the end of Dragon's tongue expecting to resolve the story arc in Wandering lark.
"I had so many fans wanting the second book because I kind of left a tiny little cliffhanger. . . Okay, I left a moderately sized one and fans have accused me of torturing them ever since because I would not tell them where Fenelon sent Alaric."
Laura said that the two book series was originally envisioned simply as a single book.
"As the initial adventure came to its conclusion, I realized Alaric Braidwine still had a problem. He was still bound to a demon. Mind you, Vagner the demon became one of the favorite characters in the entire novel, and I hope people continue to like him in the second book.
Laura said that now that Wandering Lark is out, she plans to continue telling stories from the story setting.
"Now that Wandering Lark is out, it finally means I can get on with writing the sagas of Ard-Taebh and the story arc involving The Ard Magister, which was my first novel."
In addition to her Keltora stories, Laura has recently had a short story published in the Esther Friesner anthology Fangs for the Mammaries, which are humorous stories involving vampires. Her story is entitled "Bella and the Flying Lugosi."