Lucienne Diver isn't Batgirl, but she does have a secret identity. By day she is an agent with the Knight Agency. By night she is an author. Lucienne's novels include the young adult series Vamped about social climbing teen and newly-made vampire Gina Covello as well as short stories and a romantic comedy novel under the pen-name Kit Daniels. I recently had the opportunity to interview Lucienne about writing humor, making jewelry, the allure of vampires and forensic anthropology.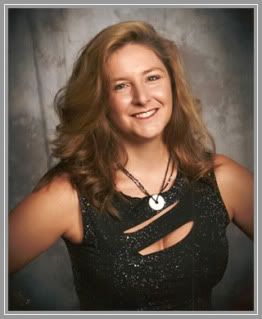 Photo courtesy Lucienne Diver
Your work seems to be in the vein (Sorry. That pun sneaked up on me.) of screwball fantasy, science fiction and romance. What drew you to writing in that genre?
The funny thing is that I don't ever get to decide what I write…that's up to the characters in my head. It sounds crazy, but it's true. My novels all start with voices, people having conversations or opinions, viewing something through my eyes, but twisted through the lens of their own experience. The only way to quiet the voices in my head is to give them other characters to talk to and keep them busy with danger and daring-do. My heroine in Vamped, Gina, is a fanged fashionista. She's highly opinionated and very insidious. One book didn't satisfy her, so I gave her two (Revamped is the second). Next she insisted on a series, so my publisher, Flux, bought books three and four. Even that wasn't enough. Now she's out in France, Poland and Hungary. She's even got her very own blog: http://ginasgems.livejournal.com. As you can see, I'm more a slave to my creations than they are to me.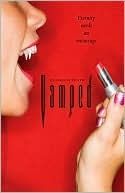 Gina Covello knows that it's tough to look good when you have to claw your way out of your own coffin.
Do you think it's more difficult to find your audience when you write humor?
Yes. I certainly think authors like Christopher Moore and Janet Evanovich have proven how successful humor can be, but I think that overall humor is much more subjective than angst or action. For example, we all ache at a broken love affair or a sucker punch, but we don't all laugh at the same jokes. What's funny or sacred to one person may be serious or absurd to the next. The trick is finding something universal to laugh at…like high school or a bad hair day.

How does writing YA differ from writing for an adult audience?
I don't think it does, really, except for the age of the characters and the points they're at in their lives. The important thing in any writing is to make the voice authentic. If you're self-conscious about what you're doing, it will show. You just need to let characters do and say what comes naturally for them to ring true.
How did you end up with a day job as an agent?
I discovered books in fourth grade. A little late, I know, but I made up for lost time reading anything I could get my hands on, borrowing from the library, my mother's shelves, my father's…. I knew then that I wanted to work with books (or study forensic anthropology, but that came later). In fifth grade I had a fantastic teacher, Mr. Hart, who sparked my love of writing. I knew then that I wanted to write books. How amazing is it that I get to do both?

But that doesn't really answer your question. When I graduated college with my degree in English/writing and anthropology, I applied to graduate schools for forensic anthropology and to jobs in publishing. When I went into the interview at Spectrum Literary Agency, where I got my first job and stayed for fifteen years thereafter, I happened to be reading the work of one of their clients, Ken Goddard, head of the National Fish & Wildlife Forensic Lab in Ashland, Oregon. I hadn't planned it, but magically the interview went from my qualifications to books. We talked about this author and that one, and I think my love for books showed through. Certainly, when I got the job I was told that though I didn't have as much experience as other applicants, they were willing to give me a shot because they thought I'd be a good fit. As fifteen years there shows, they were right. Now I work with The Knight Agency, another wonderful experience.
Why do you think the vampire mystique refuses to die? (Sorry, I'm
honestly not sitting around thinking up bad vampire puns. I swear
they're sneaking up on me)
Oh, I'd be the last to pick on you for bad vampire puns, having been published in the Fangs for the Mammaries anthology with my story "Fruit of the Vein." Vampires are sexy; it's as simple as that. They may sometimes sparkle in the sunlight, but they're always somewhat dark and mysterious with drives that are barely leashed. In a way, they are our own dark sides that we get to run wild with in the night. It's the lure of that which you should not have…that last piece of cake, that sip of wine, that exchange of blood.
How did you become involved in designing and making jewelry?
Making jewelry started as a social thing. A friend invited me over to learn, because she thought I'd have fun with it. Little did she know she'd create an addict. It was something that I could fidget with when my son was young; something that allowed me to be with him while he watched a movie for the fifty-seventh time without going insane. For the first year or two, I barely went a day without making a piece of jewelry. Pretty soon, I had a whole closet full. The problem was that I was far too busy to sell most of what I made. Now that my books have taken off, I don't even have the time to bead that I used to. Every once in awhile, I'll still pull out my old supplies, but doing so means that I don't have time to plot or blog or read. It's something that's had to fall by the wayside.


This interview continues in part 2, which you can find here.