If you type in the search string "Fur Face" on Amazon, you will find a link to the novel Fur Face by John Gibbs, as well as a wide collection of North Face fur-lined jackets. Only one of these is a compelling read.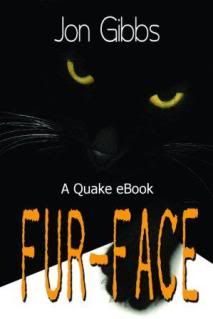 < This. =/= Not This >

An evil scientist with a dastardly invention. A sadistic billionaire with a diabolical plan. What stands in their way? Two teenagers and one amazing cat. The bad guys don't stand a chance!
When 13-year-old Billy Euston moves to the English, country village of Little Chumberry, he finds an unlikely friend in Snowy, an outrageous talking cat that only he can hear. Through Snowy he learns of an evil scientist who kidnaps local animals for use in experiments on inter-species communication. Billy finds himself drawn ever deeper into a world of cruelty and exploitation, where every answer uncovers another question. Who is Fur-Face? Why does he operate on animals' brains? What really goes on in the tunnels beneath Adventure Safari (the nearby zoo and theme park)? With the help of Snowy and Carmen, a local girl whose grandmother owns both the research center and the park, Billy tries to find out, not realizing his search for answers could cost Snowy every last one of his nine lives.
I recently had the chance to interview John through E-mail, where he told me much more about the origins of Fur Face, as well as ten interesting things about himself.
Tell us about Fur-Face and how it came to get written/published.
Fur-Face was my first attempt at writing fiction since leaving school (unless you count song lyrics and tax returns*). I had no clue what I was letting myself in for, which is just as well because if I'd known how hard it is to write a book that someone else wants to publish, I'd never have started.
I had no idea what I was doing. I was so naïve, as soon as I finished the first draft I pitched it to an agent in England, though I did at least remember to run it through the spell checker first (if anyone's interested, I set out the full details of that particular writing adventure here – not recommended for those with a weak disposition).
After that first, inevitable, rejection I realized I wasn't quite ready for the publishing world, so I spent the next few years writing and learning.
In 2007, about 250 rewrites later, I started pitching Fur-Face again. Over the next couple of years I made about 60 submissions/pitches to agents and editors, all the time tweaking the ms as I learned more about writing.
In March of '09, I pitched to Karen Syed, from Echelon Press. She offered me an eBook contract with that December. I've recently put the various e-formats on a CD, to sell at book festivals, writing conferences and author-type appearances.
*If you're from the IRS, please note: I'm kidding about the tax return thing!
What inspired you to become an author?
Back in 2003, I used to walk my (then) 9-yr-old son to school. To pass the time, he'd give me the name of an animal and I'd make up a story about it, with him in the leading role. He seemed to like the stories and I enjoyed coming up with them. I got to wondering if someone like me, who left school at sixteen with (what my old gran described as a 'skin of your teeth') passing grade in English could write a book.
Any upcoming appearances we should know about?
On Saturday November 27th, I'll be in Palmer, Pennsylvania. In the morning I'm giving a one-hour presentation about blogging to the Greater Lehigh Valley Writers Group ,followed (after lunch) by a two-hour workshop called 'It's Not About You – The Secret to Successful Blogging.'
On Monday, November 29th, I'll be in East Brunswick, New Jersey, giving another one-hour presentation at East Brunswick library, Have Blog – Want Readers, which (at the time of writing) I understand might be featured on the local cable news channel, EBTV, so you can imagine how excited I am about that J.
Tell us about you as a writer.
My first ever sale was a western drabble (100-word story) called WILD WEST JUSTICE. Drabbles are a great writing exercise, because having such a severe limitation forces you to justify every single word, which is a great help when you later take the pruners to longer works.
I've written five novels so far, though aside from Fur-Face, only one of those is what I'd call submission-ready. Three of them are what I like to call 'Medieval science fiction.' They're set in a non-magical world where humans are just one of many species to evolve into 'humanoid' form.
The submission-ready novel is called Waking up Jack Thunder, about a somewhat nerdy scientist who invents a machine which enables comatose patients to communicate with the outside world and ends up with the brain patterns of a bad-tempered CIA agent stuck in his head. I've signed up for a workshop at PhilCon on November 28th with (I believe) Jonathan Maberry and Greg Frost, who'll be tearing apart, offering advice on how to improve the first chapter I sent them.
Tell us a ten true things about you as a person?
Although I've learned to hide it, I'm extremely shy – especially in a crowd.
I almost never get mistaken for Brad Pitt.
I'm the founder and proud member of the New Jersey Authors' Network and FindAWritingGroup.com.
I couldn't recite the alphabet until I was eleven years old (though I did know all the letters).
I met my beautiful wife (aka Senior Management) at a wedding I was filming. I've thanked my lucky stars every day since.
I started blogging because my friend, Andrew Alford, had just posted on his blog at Live Journal that he'd sold his first story. I wanted to congratulate him, but his journal was set to ignore anonymous comments, so I had to open a free account with LJ first.
Shortly after turning seventeen, I was living in a hostel in central London, working a 9-5 office job during the week, contracting for a builder on weekends and as a pub disc-jockey four nights a week. I've never had so much spare cash or been so knackered before or since.
I'm the middle child of seven – Two boys, girl, me, girl and two boys.
For nearly fifteen years, I was lead singer for the British rock band, Gentleman Jones. A true legend in our own lunchtimes, we never hit the big time (or for that matter small time). My old gran used to say we were a great pub band – as in, she'd rather be in a great pub than listen to our music.
My name first appeared in print back in 1981, in the British music paper, The Record Mirror. I very nearly appeared in the subsequent issue too, but they had a rule that the same person couldn't win their crossword competition two weeks in a row.
I've been a stay-at-home dad since 1995, but I'm definitely the master of my house, and I have Senior Management's permission to say so!
Do you have any pets?
I love cats (over the years, four of them allowed me to give them a home). Sadly, with two severely autistic daughters, pets aren't an option these days.
What do you do to spark your creativity?
My brain's not wired to do the 'write every day' thing. I used to worry about that, but over the years I've learned to trust my instincts and write new stuff when I'm good and ready. Of course, I don't have that luxury when it comes to revision, which I've found only gets done when I Velcro my pants to the chair.
Any advice out there for people who want to get started writing?
There's a wealth of advice on writing available online from writers far better qualified than what I is, so I'm going to go with 'Don't forget to have fun.'
What are your favorite books to read?
The authors I re-read the most are Terry Pratchett – in particular, the Guards series – and Bernard Cornwell – in particular the Sharpe series (set in the Napoleonic wars) and The Saxon Stories (set in the time of King Alfred the Great).
What are you currently reading?
I'm currently reading One Blood, by E. F. Watkins.
Where can we find you online?
I have a website ACatofNineTales.com. I'm on a several platforms, including facebook, Goodreads and Twitter, but the quickest way to find me online is at my blog, An Englishman in New Jersey.
Fur-Face (Echelon Press 2010), a middle grade fantasy set in modern day England.
An evil scientist with a dastardly invention. A sadistic billionaire with a diabolical plan. What stands in their way? Two teenagers and one amazing cat. The bad guys don't stand a chance!


Born in England, Jon Gibbs now lives in New Jersey, where he's a proud member of several writers groups, including SCBWI, GSHW, GLVWG, The Monmouth Creative Writing Group and The New Jersey Authors' Network. When he's not chasing around after his three children, he can usually be found sitting in front of the computer in his basement office. One day he hopes to figure out how to switch it on.