Susan Satterfield has a degree in 19th century British Literature and Medieval Romance. Quite naturally, she writes stories about vampires, poetry about zombies and possibly zombie flying monkeys. She has most recently published a poem in the anthology Vicious Verses and Reanimated Rhymes from Costcom Entertainment. She also has an anthology from Yard Dog Press entitled Mirror Images.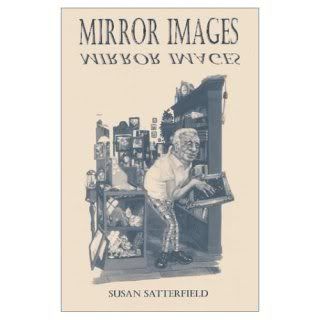 How can we find you?
I have a web site in development now, but it's not quite ready yet. It's something I should have done a long time ago, but after spending so much time on the computer since a majority of the classes I teach are online, I just haven't gotten around to it. I am on Facebook, and you can always find my work at YardDogPress.Com, http://www.coscomentertainment.com/, or on Amazon.com.
What has been your most recent work?
My latest piece is a zombie poem in the anthology, Vicious Verses and Reanimated Rhymes from Costcom Entertainment. The current piece I'm working on is a submission for a new anthology from Yard Dog Press. While I didn't have broken arms while writing it, I was suffering from an extremely bad case of insomnia, so if the story is too weird, blame my exhausted imagination….and my nephew…he had a sick idea about making flying monkeys turn into zombies, which I didn't use, but should have, and to be honest, flying zombies seemed a little to freaky to me. Now I'm having nightmares! I'm also working on two novels. One I've had lying around for a while, and have found a new direction with, and then there's a new collection of connected stories. I'm also working on some nonfiction pieces about teaching online as well as developing a Vampires as Literature course for the spring semester.

Any upcoming appearances?
I definitely plan on ConQuesT in Kansas City in May, and Soonercon in Oklahoma City in June. There are a few other conventions I plan on attending if the finances and schedule works out. I also organizing the fourth annual literary festival at MCC-Longview, which gives authors and fans of a wide variety of genres a chance to meet and learn more about writing, publishing, or the future of the work of literature.
What genres do you like to write in?
I mainly write science fiction and horror, but I'm very interested in steampunk and am playing with some ideas in that genre. I enjoy writing humor, but I also can have a serious side. I love all kinds of literature. My degree focused on 19th Century British Literature and Medieval Romance, but I'm also a huge fan of Restoration dramas and works from the Harlem Renaissance, in particular the work of Zora Neale Hurston

When you're not writing, what do you like to do?
I've been a member of science fiction fandom since the 1970s and have worked on a number of conventions (too be honest I've actually lost count of how many conventions I've worked on). When not writing, teaching, or dealing with grandchildren, I love to cook, travel, garden, and play golf. I probably watch way too much TV, but again, most of the time I'm not actually watching. I enjoy some reality shows Dancing with the Stars, So You Think You Can Dance? (I think I'm a frustrated wanna be ballroom dancer), Survivor, and the Amazing Race. I also love The Big Bang Theory, Warehouse 13 and Eureka. I'm a huge movie fan, but my guilty pleasure would have to be bad disaster films. For some reason I find the possibility of total destruction hysterical…what can I say, I'm a well-rounded person (with a few jagged edges…).
Do you have any pets? Have they ever found their way into your work?
I'm very much an animal person. I have five dogs and two cats. We recently lost two of our cats. One was 19, and the other 18. We have a tendency to keep animals a very long time. I also help raise money for the Furry Kids Refuge, a local no-kill shelter. I would volunteer to help directly with the animals, but that would mean I would have a lot more animals, so we decided I'd better just stick to raising money.
What do you do to spark your creativity?
I'm weird. I was going to college when we had five teenagers in the house, so I got used to using the TV as white noise to block out the sounds teenagers can make just moving around the house. Now if it's too quiet I can't work. I sometimes call the Weather Channel my screen saver. I do have a tendency to talk out loud when I write, especially when I'm doing dialogue. I actually find inspiration sometimes from just doing research. I'll take a topic that I'm interested in and just find out all I can about it. Sometimes while doing research, I actually discover an idea. I spend a lot of time asking the question, what if? The answer to that question is often the spark for a new story idea.
Any advice out there for people who want to get started writing?
Read. Read something every day. Write. Write something every day. Having said that, don't beat yourself up if life gets in the way sometimes. Sometimes things are completely out of your control. Just keep trying. The only person who can stop you from being a writer is you!
What are your favorite books to read? What are you currently reading?
I love reading all kinds of things. I'm a huge fan of sf writers Robert Heinlein, Spider Robinson, Connie Willis, and Lois McMaster Bujold. I really enjoy the work of Kevin Anderson and of course, I find virtually all the writers for Yard Dog Press a special group of talented writers and artists. If I could be half the writer Selina Rosen is, then I will consider myself successful. Of course, I also read non-sf. I adore Jane Austen, George Eliot, Chaucer, Shakespeare, Edgar Allan Poe, and many others. I'm currently reading a non-fiction book on developing online learning communities, and I'm currently reading as lot of vampire literature as I prepare for my class on the subject. The class begins Friday, January 21 at MCC-Longview. I was excited to actually find a textbook of vampire literature through Oxford University Press: Blood Thirst: 100 Years of Vampire Fiction. I'll also be re-reading Bram Stoker's classic novel.
Did any writers inspire you to become an author? If not, what sparked that desire in you?
I've written as long as I've been able to read. I remember as a little kid making up stories and plays for my grandmother. To be honest, it wasn't one of my favorite writers that inspired me to be a writer; it was an author who could not write a story on a bet. It was terrible! I read the first three pages and couldn't read anymore without wanting to shoot myself. I was telling a dear friend about this awful story, and ended with: "Hell, I could write a better story than that." Her response was a challenge: "Then do it!" I decided she was right. I've always said you can't complain about something you've never tried. I've been writing seriously ever since.