It has been said that publishing is like trying to summit a mountain. There is more than one way to the top. Author MeiLin Miranda is a writer who is exploring several alternative paths to publishing.Her novel Lovers and Beloveds was funded through preorders. MeiLin built an audience for it by posting the first rough draft online as she wrote it. Additionally, she writes and posts the parts of a serialized novel entitled Scryer's Gulch weekly.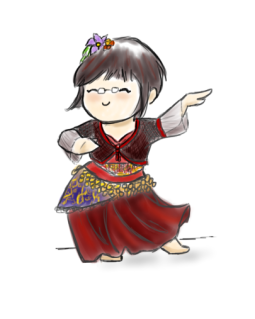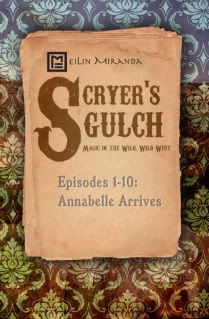 Let us know where we can find you on the web. Do you have a website? Blog? Facebook? Twitter?
Oh, boy, I'm all over the place:
Website, including blog: http://www.MeiLinMiranda.com/
Facebook fan page:http://www.facebook.com/pages/MeiLin-Miranda/33713534770
Twitter: http://www.twitter.com/meilinmiranda
LiveJournal: http://meilin-miranda.livejournal.com/
Goodreads: http://www.goodreads.com/author/show/2731702.MeiLin_Miranda
Formspring: http://www.formspring.me/MeiLinMiranda
…and I'm on Ravelry as MeiLin. I also spend a lot of time at BPAL.org.
Yes, I still have time to write, eat and sleep. 🙂
What projects are coming up that you're excited about?
I've got a paranormal Jane Austen erotica piece (I know, right?) coming out with Circlet Press in an anthology called "Sense and Sensuality." It's titled "The Amber Cross," and it's an adaptation of "Mansfield Park." I was amazed how well paranormal erotica just, er, slid right in there. Boy, that was fun to write. Just silly and fun. I have no idea when that's coming out, but I know Circlet's editor is taking an axe to "The Amber Cross" as I type. I adapted the whole novel and managed to get it down to 18,000 words from however many thousands more of the original, but that's still too long for an anthology. I did try. I just couldn't make it any shorter and still have it be Austenesque enough for my satisfaction; I used actual chunks of "Mansfield Park" in it, a la "Pride and Prejudice and Zombies," and Miss Austen was not succinct. We're hoping to edit an abridged version, and by "we" I mean the hapless editor. 🙂 Once my rights have reverted I'll issue the "director's cut" myself; it scored well with beta readers.

What are you working on next?
Right now I'm working on book two of my "Intimate History of the Greater Kingdom" series. The working title is "Mothers and Fathers," but I don't think that's the one it's going to end up with. I'm also polishing up some shorts in the IHGK world to publish as ebooks.
There's the ongoing fantasy/western/soap opera/big pile of goofy/first draft-last draft serial "Scryer's Gulch." A new episode of SG goes up every Wednesday, whether I want to write it or not.
And gods help me, I started playing with an idea for another series just today.
You mentioned that you've been working in the nonfiction field for 30 years. What was it like for you to make the transition from nonfiction to fiction? Did you have any hangups? What was the most surprising thing about switching from nonfiction to fiction?
It was terrifying at first–well, terrifying for 30 years. I was frightened of judgment, especially after a bad workshop experience, and I was frightened by what I knew would come out. It all tended to start with or come around to some kind of sexual topic or situation no matter how hard I tried to avoid it (even in non-erotic pieces), and it embarrassed me. I'm too old to care now, and letting go of that embarrassment and shame somehow let non-sexual stories out as well as sexual ones. I'm finally doing what I should have been doing all along. I never had any business being a reporter; it let me write without risk, but I never excelled at it nor was I suited for it. That was the biggest surprise, and the saddest one: 30 lost years.
Your book Lovers and Beloveds is 100 % Crowd Funded. What does that mean?
When you're an indie, you have to be not just as good as a traditionally published book, you have to be better–especially when it comes to the editing and design of the book. One typo and you get the "See? Self-publishing is crap" thing. And readers demand a professional-looking book. You have to have a grabby cover or no one will look at it. Unless you're a trained designer as well as a writer, it costs money to hire a cover artist and a typographer, and it costs money to hire an independent editor.
I'd been doing something that if I'd known any better or taken myself seriously I wouldn't have done: I was posting what I later realized was my first draft online for free as a serial. (In the long run, my idiocy turned out to be brilliant.) I got a small fanbase–about 2,000 readers a day at its height. At some point I realized I wanted to go back and polish it up. I didn't want people thinking what was there was the best I could do; I realized I could do better. So I decided to edit the first book and put it out properly.
I'd scraped up $500 toward my editor, the fantastic Annetta "Nettah the Edittah" Ribken. I said to my readers, "Hey, give me $50 toward the other half and I'll give you a pre-sale package: the ebook; an autographed paperback; an acknowledgment, and most importantly, the finished manuscript the minute my editor and I decide it's finished." I raised the other $500 in less than 48 hours and closed the pre-sale. A bunch of people howled they hadn't had a chance, so I said fine, pay for the other half, I don't care. 😉 I had the rest of the $1,000 for Netta within 72 hours more. I closed it again. More yelling. So I just kept it open until about a month before we went to press. In all, I raised $2500 from 47 strangers and one friend to produce the book, enough to hire Netta as editor, Alice Fox as cover artist, and MCM as typographer for the print version. I intend to repeat this with book two. Here's hoping it works again. 🙂
The manuscript was the big selling point, I think. I finished the book August 31st, 2010 at 9:30 pm. (Oh, you bet I wrote it down.) The pre-salers had the .doc file in their hands the evening of September 1st.
I know a lot of people say that having to pay for editing, typography and cover design is why they'd go for a book deal instead of DIY. The thing is, I only have to pay that once. When you go with a publisher, you're paying for those services forever. That's not to say people who go traditional are wrong or stupid. This way just makes more sense to me *personally* in the long run.

While working on the second book, you are giving readers a look at the first draft just the same way you did with the first. How does that work?
When you're a writer, and I don't care whether you're indie or traditional, you've gotta be creative in the money department. Bluntly, I have some medical bills to pay. Yay, American health care system. I've got a lot of people clamoring for book two. So I thought, ok fine, you can buy a look at the prologue and chapter one in Drafty McDraftypants form for $10–see the sausage get made. They may not even show up in the final book and I can guarantee they'll be rewritten, but here they are in a PDF, instant download. It's a brilliant idear, but so far I've only gotten three bites. 😉
Has having a community around the books been an asset in marketing them?
Absolutely. Word of mouth is critical when you don't have publisher support, and even if you've got a book deal publisher support is fleeting at best. The community at my website has been incredibly supportive, of me and of one another, and they get out and drum up readership for me all over the place. I could never have done this without them, quite literally. They made me take myself seriously.
This is a different path to publishing from the traditional road. Tell us a little bit about how you arrived at this as the roadmap to publishing the book.
Initially I thought, hey, I'll write this stuff, maybe a couple of people will read it. I was coming out of the fanfiction community, specifically the Dr Who fanfic community "A Teaspoon and an Open Mind" and the DW/TW community on LiveJournal, and just putting stuff out there came naturally because of that.
When I started taking my original work seriously, I started investigating traditional publishing, what it would take to get an agent and so on. The more I read, the less convinced I became that I wanted to pursue that route. Everything I was reading–from agents and publishers, mind you, not self-publishing boosters–essentially said "Don't bother," and that it would take years just to get an agent let alone see the final book. Not only that, I kept hearing in writing communities that I would have to scrap IHGK and write something else because "it's already been published–you put it out on the web, they won't buy it." (This, of course, is utter nonsense.) "Stop writing that and write something you can sell." But I didn't want to stop writing IHGK. It's a project that's very close to my heart. So fine, I'll put it out myself, I thought. I won't be in Barnes & Noble, but I'd have more readers than if I put it in a drawer, even if "more" meant only ten.
I'm not a bitter, rejected loser. I half-heartedly sent out queries to three agents just as an experiment, and I'm the first person to say I deserved the rejection I got. I didn't get rejections from the other two; they didn't bother answering. What I sent wasn't professional; it wasn't the finished work. I don't blame them a bit. I've never sent anything over the transom except two stories to Circlet, and they bought both of them. (Well, that's not true; I recently sent a story to Tor.com and haven't heard back. I'm telling myself I probably won't, so that if I do I'll be pleasantly surprised.)
I have a lot of girlfriends in both fiction and nonfiction with book deals, too, and every single one of them went through hell with their publishers, up to and including a really nasty lawsuit. I watched as they all spent thousands of dollars publicizing their own books because there was no publisher support–hiring their own publicists, paying for book tours, paying for and sending out their own review copies, even. One of my friends had a fairly successful midlist series of historical mysteries; after the first two, her series was dropped, and years later she still doesn't have her rights back for the two that got published because her publisher folded and everything's in limbo. As self-publishing and ebooks became more and more feasible, I began to wonder what exactly a publisher did that I couldn't hire out on my own. Going it alone meant I wouldn't lose the rights to my work like my friend did, or have to sue to retain my rights like my other friend did. I can pick my editor and my cover. In the long run–and my books will have more of a long run as an indie than the six weeks on the shelf of a big box bookstore, if I was lucky enough to get that–I figured I could do better on my own.
The only thing I wish I had a publisher for is blurb writing. I HATE that! 😀
In the end, I went indie because it made emotional and financial sense to me. If it doesn't to other writers, that's great; chase your dream however you want to chase it. Just chase it. 🙂
You've also been putting up a serialized novel on your website. What is it like to work on a serial? Have you written the entire thing
out before putting it up, or is it a work in progress? Do you write on a deadline? How does writing this differ from writing Lovers and
Beloveds?
"Scryer's Gulch" is a work in progress, first draft-last draft; episodes are about a thousand words in length on average. Deadlines are Wednesdays, the day it gets posted, though sometimes it slips over to Thursday or Friday. I try REALLY hard to hit that Wednesday deadline, but sometimes life has other ideas. Usually I write each episode the day of or day before it gets posted.
Writing "Scryer's Gulch" is hilarious. It is deliberately set up to be a soap opera, and I over-indulge myself and the readers all the time. That's the point of it. 🙂 It's as polished as I can make it in a few hours' writing, it's loose, it goes in a million directions, it's trope-alicious, and it's very silly and fun. The Gulch is finally finding its audience; I think because it's resolutely PG-13 and my other work slips into NC-17 my readers initially didn't know what to think of it. And despite the sudden proliferation of fantasy westerns (I had no idea when I started it–I think it's a zeitgeist thing), a lot of people didn't know what to think of it; I heard "I don't like westerns" a lot. If I had to do it again, I'd put it out under a different pen name.
Writing it is FAR different than writing "Lovers and Beloveds" was. I went over LaB with a fine-toothed comb, over and over, and poured every ounce of craft I could possibly wring out of myself. It was finished when it was finished, not when I hit a deadline. Book two, same thing. Writing the novel series is almost painful (in that good writerly-masochistic sense); writing the serial is just fun. It's frivolous nonsense.
I noticed on your blog that you review perfumes? How did that come about?
I collect these wacky perfumes from Black Phoenix Alchemy Lab, a teeny etailer perfumery run by Elizabeth Barrial, who has the most amazing "nose" on the planet. She makes perfumes that evoke places, people, literature, mythology–she's just amazing. I started writing reviews of stuff as I bought it on the site because that's where my blog is, and the readers think it's funny. I haven't lately because I'm too broke to collect right now. Ah, the writer's life, especially the writer with medical bills. I'm very active in the BPAL collecting community; the reviews have resulted in turning a lot of my readers into BPAL fans, and a lot of my BPAL friends into readers.
When you're not writing, what do you enjoy doing?
I'm a knitter, spinner and bellydancer, and I read like a fiend, especially now that I have a Kindle. I *love* that thing.
Any upcoming appearances you would like to mention?
I don't make it out to a lot of personal appearances. I hate to travel and I'm usually broke. I'm always at Orycon every November, and I'm hoping to make it up to Seattle to Geek Girl Con in October.

Anything else you would like to add?
If you're a writer whose primary medium is the web–short stories, flash fiction, serials, literary nonfiction, poetry, any genre or none–I invite you to come hang out at WebLit.Us, which is a small community I run. It's active in fits and starts. Its main purpose is support in marketing and awareness efforts, not critique or writing technique. If you offer a service to writers–editing, web design, artwork, marketing, whatever–we have a database of professional services you should add yourself to. And if anyone has any questions on serializing on the web, I'm happy to answer. I got a lot of help from others who were doing it when I started out, and I try to pay that forward.