I'm a bit late in getting out my author spotlight for today. Deadlines will do that to a person.
I don't know if today's featured author, Lynn Flewelling is the first author that I've interviewed with a page on Wikipedia. But I do know that she has multiple, quite detailed pages on Wikipedia. They include a personal page, as well as a page devoted to each of her major series and a separate page for each book in the series. Lynn is the author of the Nightrunner Series as well as it's sister (or possibly brother) series, The Tamir Triad.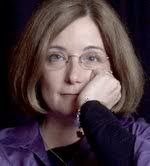 Lynn also teaches a writing seminar entitled Writing on the Waves, which is conducted from a cruise ship. I caught up with Lynn on dry land recently to discuss The Nightrunner series and find out more about the cruise.

How can we find you on the web? Do you have a website? Facebook fan page? Twitter?
Website: http://www.sff.net/people/Lynn.Flewelling/
LiveJournal: http://otterdance.livejournal.com/
Facebook: http://www.facebook.com/pages/Lynn-Flewelling/145593970532?created
Twitter: LynnFlewelling
You are well known for the Nightrunner series. Can you tell me about that?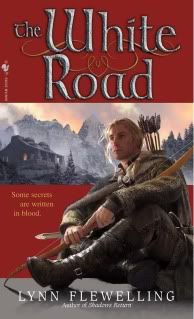 The Nightrunner Series, starting with Luck in the Shadows (Spectra), currently consists of five, soon to be six books recounting the adventures of heroes Seregil and Alec. Seregil is a dashing rogue and professional spy with a dark past; Alec is the young man he finds in a dungeon in the northlands. Seregil knows potential when he sees it, and takes Alec on as his apprentice, though Alec is at first unsure what exactly Seregil is going to teach him.
Over the course of the course of Luck and Stalking Darkness, they get to know each other better as they solve several major mysteries (lots of magic, chicanery, and dark doings), save the realm, and fall in love. Yes, that's right. But it's not a "gay" series. That's simply part of who these characters are, not the point of the story. They are first and foremost adventures. Not that there aren't love scenes as the books go on, but it's all part of the story's flow.
The next three books, Traitor's Moon, Shadows Return, and The White Road, continue their adventures. The sixth book, Casket of Souls, will be released from Spectra next spring. There will be at least one more. Luck came out in 1996 and the entire series, as well as the related trilogy, The Tamir Triad, have been in print and doing well ever since. They have been published collectively in more than a dozen countries. The first two books, Luck and Stalking, have just come out in France. (see French Cover)
Last September I also published a small collection of Nightrunner themed short stories called Glimpses, which fills in some of the gaps in the series. It's available online at most of the big book sellers in both trade paper and e-book formats. I'll soon be starting work on Glimpses II.
I see by your biography that you've tried on a wide range of jobs. How did you end up trying so many varied things? Do you think these varied experiences have influenced your writing?
Yes, I've done field labor, sold fine jewelry, painted houses, managed property, been a necropsy assistant, ad copywriter, and a freelance journalist, to name a few. I got my college degree in English and secondary ed, but by the time I'd graduated, I didn't want to teach. So I got married and moved to Oregon, and proceeded to try and figure out what I was going to do with myself while I worked on my writing. I did a few years of pre veterinary medicine, but couldn't handle the math. A few years later I got a job with an ad agency, then a newspaper, and finally sold Luck in the Shadows in 1995. I had kids by then, so I balanced full time mom, some freelance journalism and editing, with full time writing. The kids are grown and gone, but I'm still writing!
You also teach creative writing classes Can you tell me about the writing class you have coming up? How did you end up teaching a writing seminar on a cruise?
A few years ago a local travel agent approached me about teaching a writing seminar on a cruise ship. He specializes in these types of cruises, and books, actors and other professionals to teach classes.
My Writing on the Waves cruise seminar is designed to balance serious learning and guidance with lots of relaxation and fun. Last year, the first time I did it, we sailed with Royal Caribbean to the Caribbean in May—balmy air, beautiful islands, incredible food and staterooms, not to mention the various excursions available at each stop. We have classes on the mornings of the days we are at sea, with an afternoon salon to share our work. In port days are for exploring and getting inspired by new places.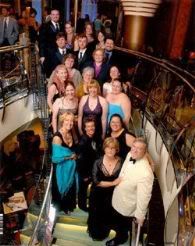 Planning that first cruise, I was very focused on the workshop structure and content. I really had no idea how involved I'd be socially with the students, and how much fun that would be! We ate dinner together each night, which let people really get to know each other. We also established the Midnight Black Tie Drunken Shuffleboard tradition. At least I hope we did.
This year we'll be cruising with RC from Boston to Nova Scotia in October, with stops along the way including Bar Harbor, Maine, where I will lead a special excursion to Schoodic Point in beautiful Acadia National Park, a section of the park most tourists don't know about. The reason for this is that this is the location of the "sea temple" from Stalking Darkness. I was stuck for the ending of that book, and one weekend we took the kids down there, as we often did and happened to be there right at the right moment of the tide to see this neat depression in the ledges. Hopefully we'll be able to see it when we visit.
I'm also offering two course tracks: beginner, and a more advanced one for people with serious works in progress, as well as a limited number of private critique sessions. You can find out more information at my website. http://www.sff.net/people/Lynn.Flewelling/s.cruise.html
I chose October for several reasons: Glimpses II will hopefully be coming out that month, so we can have a launch party, as we did for White Road last time; it's the fifteenth anniversary of the publication of Luck in the Shadows, the first book in the NR series, and my first book sale; and it's my birthday, so you all get to party with me. No clapping and singing, though, please!
For more information on the cruise, or to sign up visit the travel agent's site: http://connectiontocruise.vacationport.net/OfferDetail.asp?PriceId=1992821&TripId=463603&EmailId=&ReferralType=3&ReferralId=463603
Are there any other upcoming appearances you would like to mention?
I'll be at ConBust at Smith College March 25-27. It's a great con and I always have a great time. http://sophia.smith.edu/conbust/guests.html
If you could go back in time and give advice to the younger you when you were first starting to write, what advice would you give yourself?
Don't worry so much. Just write!