When it comes to world building, there aren't many authors that are better at it than Lee Killough. Lee has written detective novels with vampires, ghosts and werewolf protagonists as well as an African quest novel. She is also the author of one of my favorite resources for world building, entitle Checking on Culture.
I recently caught up with Lee to discuss world building, writing The Other and the movie that is being made from one of her short stories.

Where can we find you on the internet?
I don't have my own web-site, but I share two:
http://www.bookswelove.net/ and www.coffeeshopwriters.com
The coffeeshop writers are a group of women writers here in my town, all of us writing different things: romance, hot romantic, historical, fantasy, mainstream, and of course my science fiction and supernatural mysteries…making us a diverse group. Our motto: whatever you like to read, one of us probably writes. The Books We Love site has authors published by small independent publishers and by e-publishers. It's a great site to visit, not just for my page http://www.bookswelove.net/killough.php, because the authors write in every category there is.
The print books are all officially out of print, but many are still available as New and Used on Amazon. And of course I have copies of every title, even the old paperbacks that I don't think are even on Amazon. But the good news is, Books We Love has gone into the publishing business and my books are gradually being re-issued as e-books. Five are out so far: Wilding Nights, Killer Karma, The Leopard's Daughter (and the novella Yard Dog published with it, Aftershock, is available as a separate publication), Blood Hunt, and Blood Games. They are all available on Smashwords in a number of formats, but also from Amazon for Kindle and B&N for the Nook. I'm working on re-editing Bloodlinks now, then will tackle my three SF mysteries, the Brill/Maxwell series.
You started reading Science Fiction as an alternative to the popular YA offerings at the time. What about Science Fiction appealed to you? What did it offer that mainstream YA did not?
At that time YA all seemed (to me) to be about girls worrying about being popular, high school relationships, dating…girly stuff. I'm not and never have been girly. Trixie Belden and Nancy Drew were okay, but my library didn't have all that many of those either. I don't know how I happened to check out the science fiction but yes, it immediately hooked me. That first book was Leigh Brackett's Starmen of Llyrdis and the second C.L.Moore's Shambleau and other stories, introducing me to Jirel or Joiry and Northwest Smith. They blew me away. They were so imaginative, full of places and characters so different from real life. Something else that appealed to me, in SF and mysteries, is that chaos (alien invasion, a murder) can be resolved with the application of reason and science. Something to enjoy, however briefly, in a world that then and now often has no resolution of chaos. But perhaps another factor that hooked me was that in portraying the future, they said there would *be* a future…a hope to hang on to growing up in the Cold War of the 50′s with the threat of The Bomb.
Some of your books (I'm thinking of Leopard's Daughter, in particular because the Yard Dog Press edition is the one that is sitting next to my computer at this moment) don't have a traditional view point (In other words, they're not the Tolkienesque, proto-European fantasy setting). How do you get into the heads of your protagonists when they aren't from a familiar background?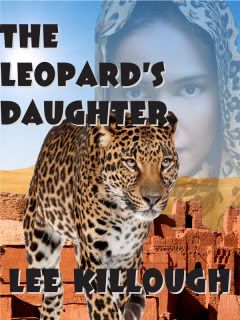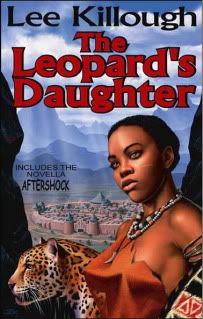 A glib answer would be, the same way women get into the heads of male characters and men get into the heads of female characters, or modern writers get into the heads of historical characters. But that doesn't answer the question. I do it through the worldbuilding that's behind every book. I love worldbuilding. My late husband Pat used to tease me that I wrote books as an excuse to worldbuild. I spend a *lot* of time putting the background together. I have checklist for it. Because as anyone who's heard me talking about worldbuilding knows, I use it not only to lay down the ground rules that keep the story consistent but shape the actions, thinking, world view, attitudes of my characters.
We are a product of our cultures. My characters must be, too…if I don't want to end up with, say, a Vulcan who comes across as a White American Suburbanite. For Leopard's Daughter I read a dozen or more anthropoligical studies of villages and tribes, saw how they built, how their oriented their villages, what their lives and dress were like, their religions and gods. I read books of African legends, jokes, poetry. Jokes and poetry offer great insight into a culture. So when I created the background for Leopard's Daughter, I had emersed myself in African culture thoroughly enough to know what would go on in the head of my warrior princess. I had a Nigerian girl we know read the ms for comment and she approved it. Serendipitously, during the research I discovered African cultures had quest stories…created by court bards for the entertainment of royalty. So naturally the heroes were nobility or commoners who discovered they were nobility. Sound familiar? It let me present my exotic characters, monsters, settings in a story form western readers can connect with.
For something close to home, like the vampire, the worldbuilding consisted of deciding what lore I would follow but also getting into the head of a detective…for which I read magazines published for police officers and picked the brains of a local detective I know…familiarizing my self with that police culture. When I wanted a different kind of werewolf, I started with how could I get rid of shedding clothes when Changing and ending up naked when they changed back. Once I figured that out, it was like building an alien: where did they come from, how did they live, what was their family structure, and their attitudes toward the human population.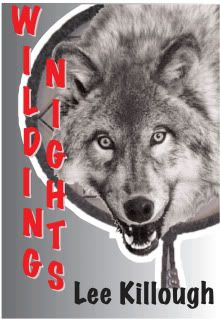 What makes you want to write the non-traditional fantasy?
I didn't set out to write non-traditional fantasy. Well, for Leopard's Daughter, yes. I wanted a warrior woman but looked around for a different approach…and there was Africa. I may be mistaken but I don't remember anyone but Mike Resnick drawing on African sources. The other books came more or less from what-if's: what if vampires really existed. How would they really live? Does a vampire have to be evil? Fred Saberhagen's Dracula isn't warm and fuzzy but he's not evil. So I gave my vampires a choice between good and evil, too.
Garreth ended up being a detective because a mystery is a plot structure, a great skeleton, if you will, to hang almost any kind of story on. When Stephen Pagel (of the now-defunct Misha Merlin Press) said, "I wish someone would do with werewolves what you did with vampires." I said I could. Again, mystery provided an idea story structure, plus I was amused — as my werewolves are — by the idea werewolf cops…people being protected, unknowingly, by their "nightmares".
After Wilding Nights I considered which supernatural creatures I hadn't worked with and came up with the idea of a ghost detective. I guess I just like to play…build different worlds. It's probably the reason that although there are series I love to read, what series I have just sort of happen. I'll write another book about those characters because I have an idea for using them. Otherwise I'll find something new to write about.
Since you've written books with vampires and werewolves both. Which do you prefer?
That's like asking whether I prefer Hershey's dark chocolate or Reese's peanut butter cups. I'm sometimes asked which of my books I like best. To which I usually answer: the one I'm working on at the moment. It's a bit that way with my vampires and werewolves. I love them equally though if I'm working on a book with one or the other, that one had the edge in favoritism at that time.
When you write mysteries, do you begin the novel with the end in mind, or do you decide the big reveal as you go along? How much plotting do you put into your mysteries?
I always know the end. I need to. That way I always know what direction I'm headed, no matter what happens, or changes, in the middle as I go along. When re-editing Blood Hunt for e-publication, for example, I came to a scene early on in the book where I thought no, no, why did I write it that way back when; it isn't the way that character would react. So I changed it and…sheesh…it was like dominos. Every change led to more changes. I ended up with vast revisions…old scenes changed or deleted, new scenes added.
Lots of work but a better book for it, I think. I *hope* that thirty years later I'm a better writer. Anyway, I could have gotten lost in the changes, but knowing the end kept me headed the right direction. Careful plotting is critical to mysteries so, yes, I work hard on the plots. I want to play fair with the reader, give them all the clues they need to figure out the end. A writer I once talked with said he wanted a quarter or so of his readers out-guessing him and the rest head-slapping: "Why didn't I see that!" I think that's a nice goal. Though I know the end, handling clues often requires working backward. How can I have the sleuths discover this? How do I make it reasonable they don't discover it earlier without being idiots or blind? Or, what weapon can I use to have the victim end up thusly. It's all a great, fun game.
How did you handle the transition to Kindle? Has it worked well for you thus far?
I don't put up my books myself. I know authors who do, but mine are handled by Books We Love Publishing Partners. They make sure the formatting is correct, handle collecting royalties and getting them to me, leaving me free to ready the next book.
Because e-books are inexpensive, they don't earn a lot per book, but sell enough and it isn't bad. More important to me, the books are out there again…to be found by old fans and discovered by new ones. Some books, like Blood Hunt and Bloodlinks, had low print runs originally which made them hard to find. Others had poor distribution, resulting in the same problem. With e-publication, the books are available to readers around the world.
Leopard's Daughter tanked when first published…perhaps because it had African characters, perhaps because it wasn't the fantasy that fantasy readers expected. Yard Dog Press's republication of it these years later gave it a second chance, and e-publication has given the chance to reach an even wider audience. The price makes them an economical purchase. Something I'm hoping a reader is willing to buy to see if they like it, where they might be reluctant to put out the money for a hardback, or even a paperback the way prices of those have gone up. So I have to say, it's working out so far.
Any upcoming appearances?
A few. I'm planning to attend a mystery convention in Omaha called Mayhem in the Midlands, Memorial Day weekend. That same weekend I'll be dashing from Omaha to Kansas City to attend ConQuesT. I'm going to OK City for Soonercon a couple of weeks later — or maybe just a week later — and thinking about an Omaha SF con OSFest in July and Fen-Con in Dallas in September.
Anything I may have neglected that you would like to mention?
Well, there is, ahem, the movie. An Australian indie filmaker Joel Rembach bought the movie rights to my short short story "A Cup of Hemlock" and has made a film based on the story. It's fun seeing my words turned into images…better yet, seeing how well Joel did it. I'm delighted with the result. The film has been entered in film festivals in Australia and San Francisco, and maybe others. And it may be shown as part of the film program at OSFest in Omaha. I haven't heard for sure about that. The film is on the internet…password protected at the moment but hopefully soon available for all to see. Anyone interested can keep checking out http://www.vimeo.com/19117628
Current work in progress is editing Bloodlinks — the sequel to Blood Hunt — for e-pub, then I will be updating the three Brill/Maxwell sf mysteries, whom I hope will then find a new and successful second life as e-books. The stories are still good but the technology which seemed futuristic when I wrote them lo many years ago is laughable. But then, they were written before technology overtook them in the explosion of cell phones and computers everywhere. So I'm looking to pushing the time period farther into the future and inventing new technology for my futurecops. I just hope it stays ahead of the real technology for a month or two.